I took some time to have a great chat and catch up with Felicity who runs Pelvic Physio Manchester.  I've known Felicity for just over year and can't tell you how lovely she is!  She specialises in treating pelvic health issues and is a qualified Mummy MOT Practitioner.  She works for the NHS alongside her private practice and lives and breathes pelvic floors (if that's even a thing!!)
We're on a mission to stop women believing you have to "live" with a poor pelvic floor and incontinence and work really closely together to try and help as many people as possible.  So if you've any pelvic floor weakness, discomfort or any issues with your stomach muscles or just don't feel right after having your baby…then Felicity's your lady.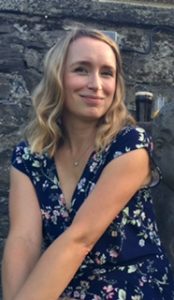 So read on to find out more about Felicity – where she's from, why she started Pelvic Physio Manchester and what she cant live without if she was deserted on a desert island…
1- What's your name and where are you from?
My name is Felicity Nicholson and I am from Dublin, Ireland. I moved to Manchester in 2003 to study Physiotherapy and stayed after meeting my husband and starting our family here.
2 – Tell me some facts about you…
I initially studied Biochemistry in Dublin. I still have a big interest in research but now I like applying the research evidence and seeing the direct benefit on the patient in front of me. I'm an eternal student (or maybe just a science geek 🤓). I still have my student card and get a 20% discount in Topshop!
3 – Tell me about what you do and your business Pelvic Physio Manchester…
I am a specialist pelvic physiotherapist, I treat women and men with bladder, bowel, prolapse, or pelvic pain problems.
I know these issues are seen as a big taboo, causing people a great deal of embarrassment and shame, perhaps taking them years to seek treatment which is awful. But once they know that they're not alone and that simple, effective treatments without the need for surgery is available, I get a massive buzz in helping them reduce their symptoms and achieve their goals.
4 – What motivated you to set up your own business?
Being my own boss means I can work flexible hours and spend more time with my daughter as she's growing up. I love working in the NHS too, I'm lucky to have a great pelvic health team at Stepping Hill Hospital in Stockport.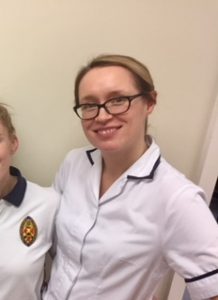 5 – How long have you been a physio and What made you want to specialise in Women's Health physiotherapy?
I qualified in 2006, completed my Masters in Musculoskeletal Physiotherapy in 2011 with my dissertation in women's health. I've always felt it unfair that women can be left with disabling consequences of giving birth, often feeling they are expected to just accept them.
Not many women feel confident to exercise, enjoy sex or even go out to work when they can't trust their ability to control their bladder or bowels. I don't want to see anyone being held back from doing what they want to do because of their pelvic floor problems, because these issues are treatable! I lose my mind with frustration every time I see the Tena adverts encouraging women just to pad up and get on with it.
6 – What can someone expect from a session with you?
A listening ear. Nothing surprises me. I ask lots of questions about your health, obstetric and gynaecological history, occupation, hobbies and goals. After that, I offer a full physical examination and we would discuss the relevant anatomy and treatment options to help get you back on track.
7 – What's the most common injury you see in Mums & do you have any handy hints/prevention methods? 
The most common condition I treat is stress incontinence, with 1 in 3 women experiencing leakage of urine with coughing, jumping or laughing. More people have incontinence in the UK than diabetes, asthma and epilepsy combined.
The main cause is pelvic floor weakness secondary to pregnancy and childbirth. Pelvic floor muscle training is the first line treatment for stress incontinence.
We know that doing pelvic floor exercises in pregnancy helps to reduce the risk of problems postnatally. Sometimes we just aren't sure if we are doing them right and I recommend getting checked out with a women's health physio who will be able to give you a personalised exercise programme and treatment plan. If in doubt, get it checked out.
8 – What's your top tips for new Mums who are getting back to exercise?
Start slowly and gently with low impact exercise like walking, pilates, yoga, swimming and build up gradually. You are only as strong as your weakest muscle – work on improving your pelvic floor strength everyday.
Listen to your body- don't ignore symptoms of incontinence or vaginal prolapse, seek help from your GP or women's health physio. At Pelvic Physio Manchester we offer a Mummy Mot; a post natal Physiotherapy assessment from 6 weeks post birth onwards, where we assess your abdominal muscles and pelvic floor to ensure they are recovering well and we can advise you, based on your own circumstances, how to get back exercising safely.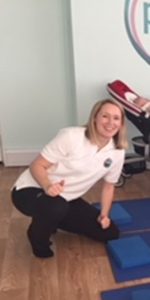 9 – Let's talk pelvic floor…what's your advice to anyone who's experiencing pelvic floor problems?
It really depends on what the problems are. We treat such a variety of problems; stress incontinence, urgency or frequency, urge incontinence, prolapse, constipation, leakage or urgency with bowel movements, pain with intercourse, or chronic pelvic pain. These problems don't get better on their own, are often treatable without the need for surgery and you don't have to suffer in silence. Seek advice from your GP or women's health physio today.
To practice pelvic floor exercises first we want to locate where these muscles are; they run from the pubic bone to the tail bone and out to both sitting bones, surrounding the entrances to the bladder, vagina and bowels. To squeeze your pelvic floor imagine you are trying to stop yourself from passing wind, and then draw that sensation around to the front as if you are trying to stop yourself from passing wee. It's a squeeze and a lift inside. Make sure you are not holding your breath, squeezing your buttocks or thighs. We want to be doing 10 quick squeezes for coordination so the muscles kick in quickly when we cough or sneeze and 10 long squeezes, for up to ten seconds, for endurance. If you feel the muscles are slipping away after say 5 seconds, just hold for 4 seconds, relax the muscles completely and try to do up to 10. Then the following week hold for 5 seconds and progress gradually till you can hold for 10. Try to do the exercises in different positions, lying, sitting or standing, three times a day for at least three months to see results, then it's once a day for life. We need to use the pelvic floor muscles when we need them, so try to tighten them before coughing.
More information on pelvic floor exercises can be found at the Pelvic Obstetric and Gynaecology Physiotherapy website (https://pogp.csp.org.uk/)
10 – What's your personal favourite type of exercise and why?
This week it's been mainly dancing in the kitchen with a two year old. I love Pilates and teach a pregnancy Pilates class at The Pilates Rooms in Urmston.
Yoga, snowboarding and horse riding would also be my exercise of choice when I have the time. I'm a big fan of the couch to 5k running programme and have completed it a few times. When you've got a young family it's easiest to run out the door and escape for a 30 minute run whenever you get the opportunity.
11 – What's your best piece of advice to new mums who are having body confidence issues?
Get yourself some good mummy friends and talk. We're all in this together and we need to support each other. I recommend classes like Becca's where you are outside in the fresh air, with like-minded mums, exercising releases feel-good hormones to lift mood and an extra bonus- get you fitter!
12 – What can't you live without?
Breathing. Might seem a bit obvious but nothing beats a few deep diaphragmatic belly breaths to take stress levels down. I find myself needing to do this quite a bit!- As I'm sure most mums do. Also people with pelvic pain problems are often breathing only into the top parts of their lungs, re-learning how to direct their breath into their belly, helps to relax the pelvic floor and can relieve pain and tension.
13 – I feel most at home…
When I'm with family and friends, wherever that is.
14 – How would your friends describe you?
I have no idea! Tall, Irish, ..amazing? 😉
15 – If you were stranded on a desert island, what 3 things (not people!!) would you take and why?
Fire, water and my iPhone.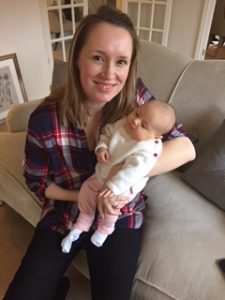 …
So if you have any concerns or just want to talk through anything at all to make sure what you're going through more "normal" then please get in touch.
Felicity's contact details are:
Number – 07835157104
Email – [email protected]
Website – www.pelvicphysiomanchester.com