With the exciting upcoming training for Nat and Jen at the weekend who are spending Sunday training with UK Athletics doing their Leadership in Running qualification, I thought it would be really good to let you find out a bit more about them before they start their new clubs next week.
So first off, a bit of background for you as to how I know them:
I've known Nat for about 2 years after she started my Mum and Baby class in Altrincham with her second baby Ozzy.  She came pretty much every week of her mat leave and then once she went back to work as a teacher, she contacted me about my run club.  She was in a plateau and couldnt hit her goal of doing a sub 25 min 5k so I told her she needed to come down and do my 8.15 Monday class which she did and in the last 12 months she's knocked a whopping 3 mins off her 5k time – unreal!
And as for Jen – I've known her for such a long time!  She's best friends with my husbands best friend is the easiest way of explaining how we know each other and she was one of the first people I met in Sale when we first came to visit before deciding to actually move here.  Her 2nd child and my 1st are very similar in age so we did playgroups, baby groups and coffees together during that mat leave.  When Jen had her 3rd, she came to my Sale Mum and Baby class and when Sammy was 6 months or so, she started coming to run club and pushing herself out of her comfort zone and she hasn't stopped coming since!
In order for you to get to know them a little, I pulled together 8 questions and we spent an hour over a drink (non alcoholic, I promise!!) and these were there responses:
So we can know you as well as you as a Run Leader, tell me a brief intro to you:

NAT – I have two sons – Milo and Ozzy – who are 6 and 2. I live with my husband, kids and grumpy old dog Muttley in Altrincham. I'm from South Wales but spent some years living abroad before settling up here. I'm a primary teacher in Manchester and love my job. Safe to say that run club gives me some much needed adult conversation
JEN – Jenna/Jen, 41 Mum of three (Grace, 9, James 7 and Sammy 3) married to Dom for 13 years (eeek!) I have spent my whole life in recruitment and now work two days a week for a small specialist recruitment company. I can usually be found running the streets of sale or shouting after my three kids – or drinking wine – not normally all at the same time unless it's a really bad day!
How long have you been a runner?

NAT – A pretty long time! I started running with my sister when I was revising for my GCSEs and she was doing her A-levels. We needing some stress relief so bought matching trainers and ran around our hilly, Welsh town. It's probably why hill training is still my favourite
JEN – Not sure if still call myself a "runner"! I started 'properly' running (consistently) probably about 6 years ago after I had my middle baby. But only 5kms and once, maybe twice a week. And then I think about 4 years ago I started to run more regularly and up my distance. I had a break to have my third child and then have been running ever since he was about 5 months old (he was three last week!).
NAT – I used to run for fitness but since having children my motivation has definitely changed. Now I run for head-space, to socialise, to achieve something, and a little bit for fitness too.
JEN – So many reasons! For me, it's my space, my time – a reason to get away from the kids, the noise, the chaos – and to skip the odd bath time! I started for that reason but then I fast realised it helped me hugely mentally. I have had lots of problems getting and staying pregnant and I although I am eternally grateful to be a mummy of 3, it's been such a hard journey with recurrent miscarriages.  In particular, getting and staying pregnant with my third baby Sammy took a huge emotional, physical and mental strain and running (apart from my husband!) was the only way I could deal with it – it literally kept me together!
On a lighter note, I run because I LOVE food and booze and its literally the only time me and best friend can catch up without continual interruptions!!
What are your running goals for 2020?

NAT – 2019 was an amazing year for my running but I feel like I have so many more goals. I'm excited about 2020 because I'm running the Manchester marathon again! It was brutal last time so this time I'm excited about enjoying it. Hopefully…
 JEN – 3. Hmmm running goals – to keep running! Remain injury free and perhaps, just perhaps do a half marathon under 2 hours!
What's your best running achievement to date?
NAT – I'd say doing the marathon pregnant is a good place to start (yes to anyone who hasn't met her yet – she is crazy!!)
JEN – All of my running is achievement – I couldn't run a bath let alone any distance 10 years ago. But I was so, so chuffed when I completed my first ever half marathon at the grand old age of 39! I'm about to complete my third in a couple of weeks at 41!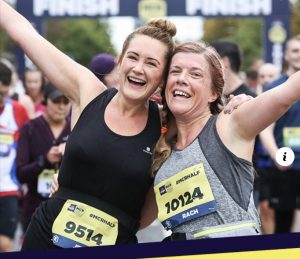 What's the one bit of running gear you can't live without? (Trainers not included!!)
NAT – A hair band (see picture!!)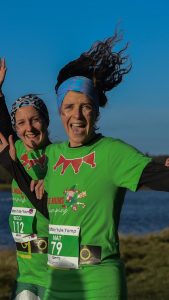 JEN – Easy – running watch (only got one a few months ago and its CHANGED my life!!!) and a running belt! I won't leave the house without either
If you had one piece of advice for people getting into running, what would it be?
NAT – Going for a run is going for a run, no matter how far or fast you go!
JEN – Enjoy it! Don't compare yourself to others, run at your pace and your distance. I see running a bit like giving birth, totally horrendous when you are doing it but euphoric at the end – and as soon as you stop, the pain is over!
How are you feeling about becoming a run leader?
NAT – I'm probably too excited to be honest! I love running and I can't wait to get to know people and share my passion with others
JEN – Excited and crapping my pants!! Can't wait to inspire and help other people to run and to be part of Becs ever growing empire!
So if you see them about say Hi and wish them luck for their upcoming new roles!  Jenna is going to be leading a brand new class on a Monday called 5k Boost which is going to give people the confidence to run 5k and also give them some tools and techniques to run it quicker than they currently can and Nat is going to be leading my Tuesday 5-10k club so pushing people out of their comfort zone and helping them to nail a 10k.  She's training them for the Poynton 10k so watch this space – we will share the pictures when they get there!!
As always, if you would like any further information on the run clubs that These Mums Do offer, please get in touch – [email protected] or 07525790704