After the epic achievement earlier this month by Jasmin Paris winning an Ultra Marathon running challenge and beating the previous record by a whopping 12 hours, I started thinking about women in sport. It's been a tough old road for a lot of women and there are so many awe inspiring ladies out there which have paved the way so that we can now enjoy a relative amount of participation in most mainstream sports. I was going to say equality but I don't believe it is equal at all and we have a long way to go until it is but I think that is for another rant/blog!
A prime example (and one of my running hero's) is a lady called Kathy Switzer. If you've not heard of her, she is an American runner who, in 1967, became the first ever woman to run the Boston Marathon as a numbered/official entrant. She entered as K Switzer as to not alert people to her gender and started the race along side all the other male participants. During the run, officials noticed her and they tried to grab her and pull her off the course. Luckily (and due to her boyfriend shoving him to the ground) they didn't succeed and she went on to complete the race. The image below shows how violently the race officials wanted her off the route.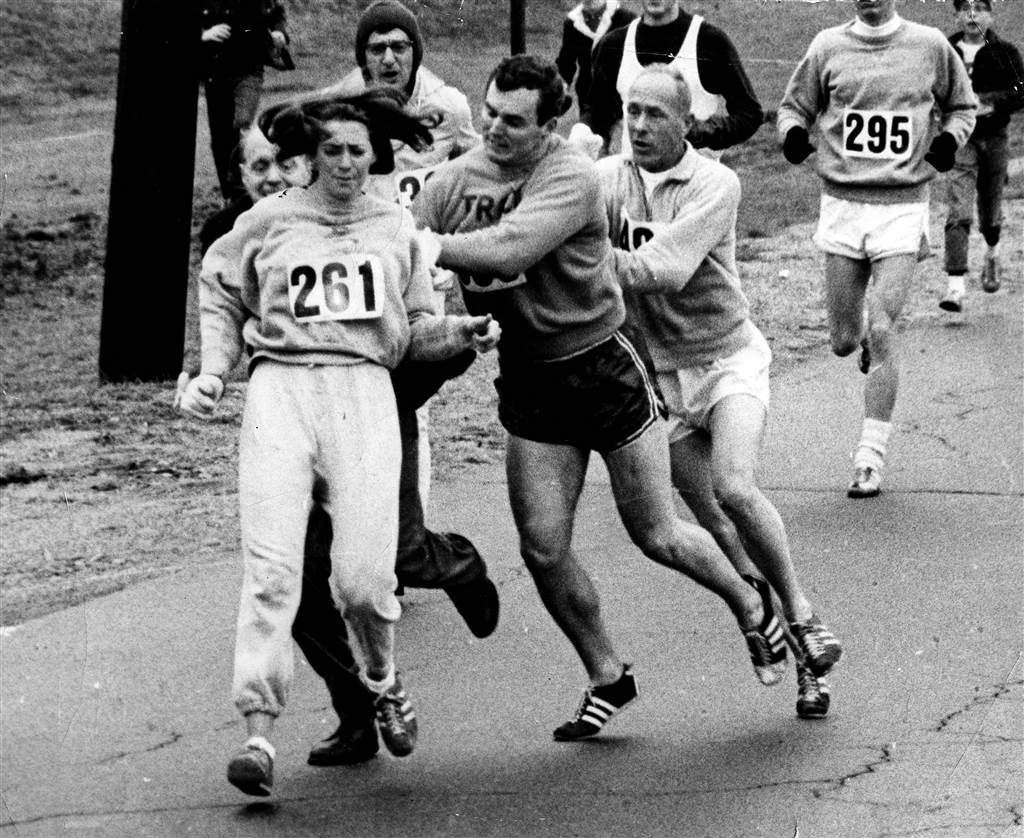 Picture Credit:Boston Globe via Getty Images
It is pretty incomprehensible to me that as recently as 1967 women weren't allowed to run in the majority of races – could you even imagine it? We totally take it for granted now and we owe a lot of that to this wonderful lady. Also, what makes her even more of my hero is that in 2017 at the age of 70, she ran the Boston Marathon again wearing the same bib number. She said that comparing running the race in 1957 and again 50 years later was like "night and day" which is just amazing.
So after thinking about the achievements of Jasmin and Kathy, I was thinking about other amazing women in sport who inspire me and here are my top 3 British athletes:
1 – Denise Lewis
A formidable British track and field Olympian.  She specialised in the Heptathlon and won Olympic gold in Sydney in 2000.  She is an absolutely unbelievable athlete.  To be able to be good at 7 different events must be so bloody tough – her PB at the 100m hurdles is 13.13 seconds – could you even contemplate how fast??! Mindblowing
She was named as the No 1 British Athlete in the late 1990's and the reason she's in my top 3 is for her grit and determination. When she won Olympic Gold in Sydney, she got badly injured during the event with an old Achilles injury which reappeared – they weren't even sure she was fit enough to finish, let alone win. But she ran, and in last race of the heptathlon – the 800m with so much pain visually etched on her face – she won. What a woman
2. Jessica Ennis-Hill
My girl crush – she is just awesome! I thought she was amazing before she became a Mum but she's gone up even further in my estimation since (even though she's now retired)
She, like Denise Lewis was a heptathlete – a 2 time Gold Medal winning Olympian. When she won in London in 2012 it was unreal. It's safe to say she was (and maybe still is) Britain's most famous athlete. It's said that she put 10,000 hours of training into the London Olympics – just wow!
What sealed her into my top 3 was her return to the sport after having her son. She went to the Rio Olympics in 2016 and gave it absolutely everything she had and she got the Silver medal. Some people would say she should have given herself more time to recover and train so she could have come back and got Gold instead but I don't agree. To go back out there after have a baby and losing by just 35 points to her competitor is unreal. The true poise and determination shown by her and the impact this will have on others worldwide is immense. Proving and showing that having a baby doesn't stop you doing what you want – to me this is one of her career highlights.
3. Sally Gunnell
Although her career kind of pre-dates me in terms of the fact it was 1986 when she became a household name, she's definitely got to be in the top 3. She is one of the most successful British athletes ever.
I met her a few years back as she was one of the speakers at a recruitment event I went to and man, she is a formidable woman! The way she talked about how she was coached, the way she had to train her mind as well as her body totally resonated with me. She had to come back from failures and loses to prove (just to herself) about what she could do…and then she went on and achieved it.
She was the first British woman to win a track Gold at the Olympics in 1992, was named the International Athletics Female Athlete of the year in 1993 and in 1994 she became the first women to hold the big four major titles in Athletics.
There are so many other women who could make this list but then you'd be bored listening to me ramble on about superstars in sport but I want to hear from you about who inspires you and why….